(August 28, 1894 — September 15, 1976)
(August 1897 — March 17, 1923)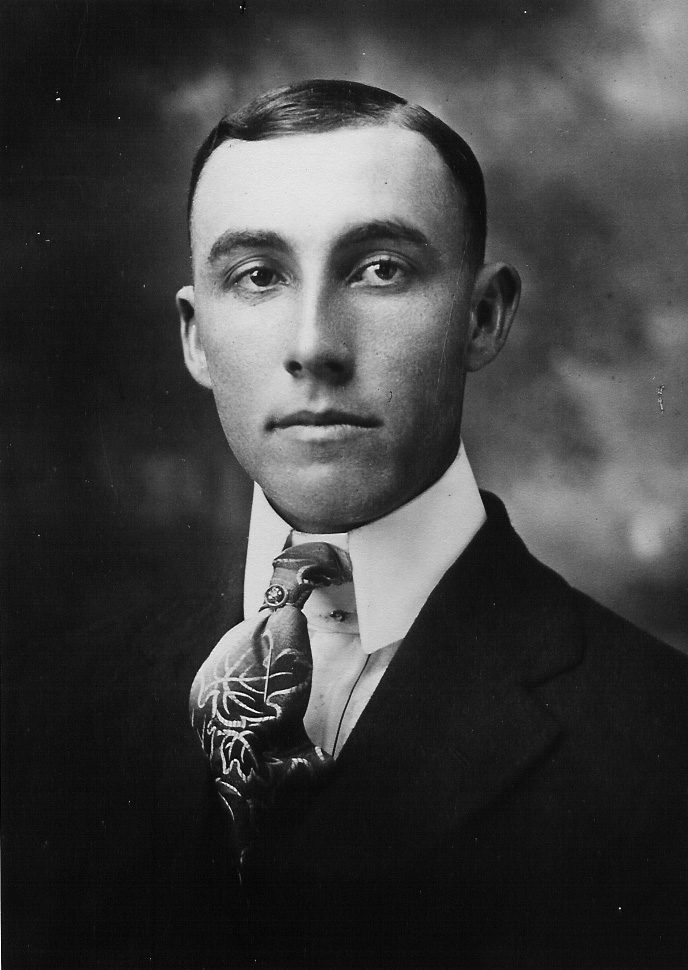 Doile Dennis Reeves in his 20's
Doile Dennis Reeves was born on his father's farm in Warren County, Kentucky on August 28, 1894, the fifth of the eight children of George Webster Reeves and Allie Elizabeth Price. He was born into a thriving county of 30,000 people and a state nudging against 2,000,000. Grover Cleveland was in his second term as president of the United States. Other births that year included comedians Jack Benny and Fred Allen.
It wasn't easy raising two young boys by yourself just before the Great Depression. Yet, that's exactly what Doile (also known as D.D.) Reeves did after his wife died when his youngest son was still in diapers.
By 1912, the eighteen year old Doile was corresponding with fifteen year old Johnnie Ethel (Ethel) Basham, the stepdaughter of George W. Basham with whom she had lived since she was two years old. Her father had died in a hunting accident in the months before she was born and her mother died shortly afterwards.[1] By the time she was thirteen, she was living in the home of her uncle, George W. Runner.[2] She continued to receive her mail there until at least 1916.[3]
Doile married Ethel on the day before Christmas in 1919. Late the next year, on October 5, 1920, they had their first son, Garland Embry Reeves. He was followed soon thereafter by Lester Dennison Reeves who was born on May 9, 1922 and the Reeves family was complete.
Doile and the boys enjoyed only another year with Ethel, however, as she died in 1923 of tuberculosis. For the next few years, until Doile married his second wife, Norah Frances Whalen, he was a single parent. It was a rough time, but Doile, with the help of family and friends, did the best he could.
Until Ethel died, Doile was a farmer, raising hogs, sheep and crops. But as a single father, he had to find another source of income. He obtained a job driving a truck for Gulf Oil Corporation in and around Bowling Green and Warren County, Kentucky, where he lived. He also worked for at the Pontiac division of General Motors in Detroit. Though this job required him to be away from home and his sons more than he would have liked, it gave him the steady income that he needed to provide for them.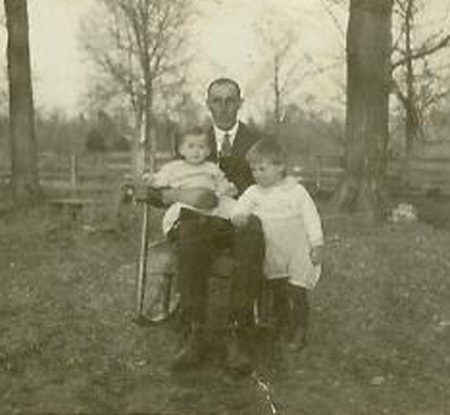 Doile with sons Garland (right) and Lester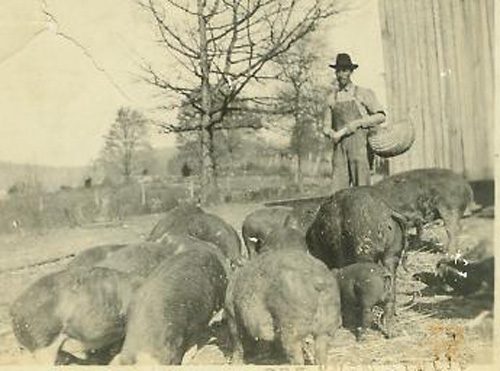 Doile tending to his hogs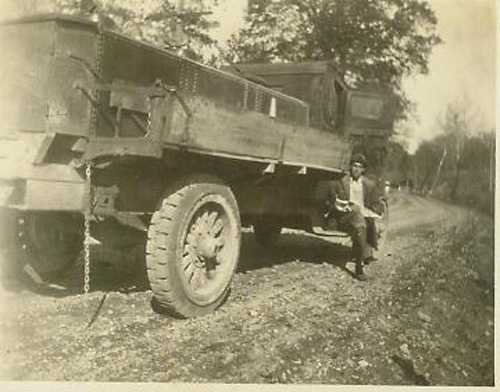 Doile sitting on the running board of the truck he drove for Gulf Oil Corporation.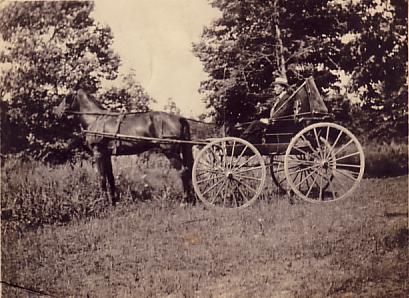 When he married Norah he was able to return to what he knew and liked best, farming. He arose early each day, about 2:00 or 2:30 a.m. He had chores to do before daylight, including slopping the hogs, milking his cows, feeding the other animals and preparing the tools and the team for the day's work. Then, after a large country breakfast prepared by Norah, he would head out to the fields for the day's work.
The boys helped him in his predawn activities. They had their own chores, including milking the cows. Then, after breakfast, they would head off to school. When they returned home, they would head out to the fields to help some more.
He later took another break from farming, once again because of Garland and Lester. Doile decided he wanted a different life for them. His younger brother, Bruce, had opened a mom and pop grocery store in the nearby town of Bowling Green. It seemed like a better life for youngsters than the farm could afford, so the Reeves family moved into Bowling Green where Doile opened his own store.
Doile found that he had an aptitude for the work. This was before cash registers were in common use and they were certainly beyond the reach of a small store like his. Although he had been able to attend school only through the third grade—the chores at his father's farm had taken precedence—Doile was good at math and was able to figure purchases in his head faster than others in the store could on paper.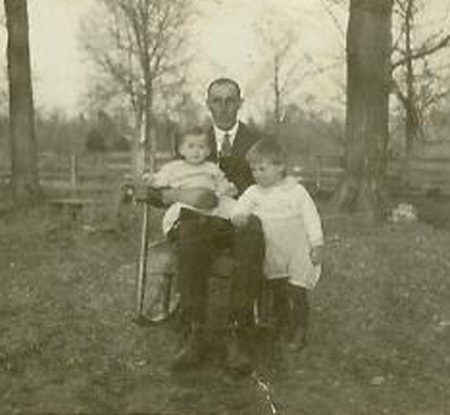 Doile and his second wife, Norah in their store on Main Street in Bowling Green.
Few artifacts remain from Doile's time in the grocery business, but below are images of two of them, a handwritten grocery bill (yes, then you could run an account at the grocery, paying up only at the end of the month) and a card ________.
After the boys grew up and left home, Doile and Norah returned to the farm. In the mid-1940s, they lived on a rented farm on Scottsville road. They later owned land in the Woodburn area and in the Richardsville area of Warren County. They moved back into town in 195__, to a home at 1236 Chestnut Street, where they lived until their deaths. It was an older, two-story wood frame house. They lived on the first floor and rented out the upper floors to long-term roomers. There was a cherry tree in the backyard. Norah made preserves and pies from its fruit. Each year, they hosted their children and grandchildren for Christmas gift opening and dinner.
Even after moving into town, Doile and Norah owned two dogs, Spot and Jack. Spot was the older of the two. They often rode with Doile when he drove in his truck. When at home, they were allowed in the run of the house, except for the living room, from which Norah permanently banished them. They, however, often tested that limit.
Doile worked in his latter years for Reeves Super Wash, a large laundromat owned by his son Garland. He kept the place clean, removed the quarters from the machines and performed minor maintenance. He kept to his farm schedule, though, rising early each morning, and arriving at work well before dawn. He died at Bowling Green-Warren County Hospital of a heart attack on September 15, 1976.
Norah lived alone for the next sixteen years before passing away on September 23, 1992.
Included in the papers of Doile Denis Reeves are cards entitled "D.D. Reeves Grocery, 804 Potter Street" [Bowling Green, Kentucky]. They say:
This Card Represents Your Account Up to $5.00. Issued to ___________ On __________, 193__. By_____________.
One of the cards was issued to a Margaret Morrow. It was dated June 25, 1934, and was signed by D.D. Reeves.
Another document was a grocery bill from 1936 which included the following items:
Meat 63
Bread 10
______ 5
Soy 30
Tobacco 10
Handkerchefs 2
Coke 5
Meal 16
Sugar 25
Butter 30
Cakes 5
Coffee 19
Hard 30
Coffee 20
Now, that's not to say that Doile devoted himself entirely to business. He also had a healthy interest in young ladies.
Earlier, on July 22, 1918, Doile responded to an earlier letter from Ethel.
Dear friend
How are you by this time, fine I hope. I am not feeling very good myself. I am all most sick. Wish I could see you this afternoon. I feel oh so lonely.
I read your nice letter last night when I came home from church, though I couldn't express how much it was appreciated, but was sorrow to here that you couldn't come to church. I have been most every night. Would give anything if you could come one night, but guess it will close Thursday night. I would see that you was cared for but you won't have time to let me know.
I aim to get this wrote in time for Bruce to mail it this afternoon, but he has gone. He went to B.G. to see his girl. Dont guess he will get to go to see her many more years many more time. Guess he will be in the next call. I sure hate to see him leave and me not go and I hate to go and leave mother.
Well Ethel you can write and let me know what time to come next Saturday and I will be glad to come. Well I will close for this time. I am all most sick and cant really write.
I will close with much love. Be a good little girl and ans soon.
From your true friend
Doile Reeves
This was not the first letter he had written to his future wife. In fact, the first one that has survived was written six years earlier. It follows:
Bowling Green, Ky.
Sep 2 1912
Miss Ethel Basham
My dearest friend I will take the plasher in writing you a few lines this morning. How are you by that time just fine I hope. I am just fine and dandy. I wonder what you are doing to day. I wish I could see you. I guess you have been going to church. The meeting began up here Monday night. If you would come up one night I would come for you and if you want to come write and let me know. I would come down tonight if ___ the meeting was going on. I sure did enjoy my self last Sunday, I wish I was with you to day.
I went to the fair yesterday, had very good time & wish for you and looked for you but did not see you. I thought of coming down after you but I didn't know whether you would come are not. We had a letter from Hubert and he passed all right. I dont see how he will stand the work. He said that he had to work all day Monday in the rain. I think that is so hard but we cant help it. Guess Bruce will have to go soon. I hate to see him have to go but cant help it.
Well I will close for this time. I would write more but I know you are tired reading this. Excuse bad writing and take all ____ love. Be a good little girl and over soon.
From D.D. Reeves.
Doile's courtship of Ethel continued over several years, but she was not the only one in whom he expressed an interest, and who impressed an interest in him. In fact, in 1918, the year before he married Ethel Basham, Doile Dennis Reeves was exchanging letters with four ladies. One unidentified lady wrote to him with aspirations, saying, "write and tell me enough to let me know if what we were talking about will come true. Oh, I hope so."
One lady (the letter is not signed, but the handwriting is different from that in the other letters), wrote and said "write and tell me enough to let me know if what we were talking about will come true. Oh, I hope so." He received another letter, dated March 2, 1918, from a lady who signed it, "Your true and loving girlie, Ray." She said " . . . you know I don't care for any one but my Doile . . . ."
He received yet another letter, dated November 17, 1918, from "Stella" which said, in part, ". . . as you say, life is what you make it."
There were several letters from Ethel, including one dated December 15, 1918, in which she said, "I hope some day the time will come when both our hearts shall be as one."
Another letter[4] from Ethel said:
Bowling Green , Ky.
Nov. 26, 1919
Mr. Doyle Reeves,
Dearest sweetheart, I will try to write you a few lines tonight. They are all at the barn tonight stripping tobacco but Lawrence and me. I aimed to go with them but they told me to stay with him. He is a little sick. Guess you are stripping tobacco this week. Wish I could help you. You had a rainy day for your sale today.
How did you get home with your horse Sunday night? Fine, I hope. Darling I studied about your having to go home in the dark by yourself. I sure do appreciate all the things you have done for me darling. You have done everything you could to make my life pleasant and happy, and darling I will always do everything I can for your happiness as long as I live. My life could never be anything to me without you sweetheart. You are more than all the world to me.
I wonder what you are doing tonight. Wish I could see you, altho I am not with you, my thoughts are with you always.
I spent the night at Mr. Johnson's last night. Had a nice time. His wife is a sister to Irene Grimes and Noah.
Wonder what you will do tomorrow. I will work.
Thursday morning. I did not get your letter finished last night. This sure is a gloomy looking Thanksgiving Day.
I dreamed the sweetest dream about you last night. Guess I had better quit and get to work.
Hope you get along alright with your tobacco. Wish I could see you sweetheart. This week has seemed as long as three of last week.
By, by, sweetheart.
Her wish that "our hearts shall be as one" came true a month later. They were married the day before Christmas in 1919. His marriage bond showed the surety on it was H.E. Reeves (his brother Hubert). Neither had been married before.[5] The marriage was performed by and at the residence of J.D. Lindsey, a minister of the Christian Church. The witnesses were Ethel Reeves and Mrs. H.D. Profitt.
Two years earlier, the Commonwealth of Kentucky awarded Ethel Basham a 2nd Class Teacher's Certificate, giving her the right to teach for a 2-year period. Then, earlier the year of their marriage, she was awarded her a 1st Class Teacher's Certificate. It was signed by Eugenia Roemer Mills (County Superintendent) and two examiners. It was valid for four years.[6] One of her attendance sheets was preserved in the papers of Doile Dennis Reeves.[7]
He received another letter from his grandmother. (The blanks in this and the following letters are parts which were torn off of the original documents. Except for dividing the letters into indented paragraphs to make them easier to read, all of the punctuation and spelling is original.)
Memphis, Tenn.
May 4, 1925
My Dear Doil
I have looked for a letter from you for so long I thought I would write again. I received a letter from Eula and one from Ethel but have not heard from either one. I am well and hope you and the dear ones little Garland and little Lester are well. Every time I look at their pictures I want to see them so bad. I sent Uncle Bob one and he wrote and said they were good and that they were hard to beat. Said he would like to see them. He said he was going to try to stop come to Bowling Green this summer to see you all and tell babies I am going to see them this summer sure.
How is Bruce and where is he staying now and is he well yet. I would write to him but did not know his address. Tell him I thought of him a lot of times and wished I was so I could have come to of seen him. How is Ethel and all. How are you, well I hope. I am very well here. It is so _____ it is cool here to day and both Marions have been sick for several weeks. Pat, as every body calls him, had the mumps. Old Marion is sick with his old disease. They are talking about going to Florida this fall. Pat talks like him and a young man will go in August. How is Ethel's baby.
Well, Eula is in trouble. Bob told me to tell her not to worry about him only to try to get him and put him in the pen. He said for you all to see Skag's over by Mr. Raimer. Said you might find out something about him. She had better hold on to her place. She said her and Mildred were going to Tenn. and get a job. She said the KKK were going to try to find him. Have you found you a place? How are you and your got girl doing now.
I have never written to Yandel or Huber yet. I have so much writing to do and just keep putting it off but tell them I am going to write but tell them that I have not forgotten them. I think of them. I think of you all and would love to see you all. Well, write Doil and tell me all the news. I will try and do better when I write again and kiss the baby's for me and tell them Grandma wants to see them so bad. And tell them not to forget me.
Write soon. Much love from Grandma.
Her next letter was dated in August of the same year.
Memphis, Tenn.
August 17, '25
My Dear Grand Son
I received your letter of August 4 and am ashamed to have been so long in writing, but you may know that I was prevented or I would have answered you before now. For I am always glad to hear from you and am to hear from those dear little ones. Tell them that Grandma is going to come to see them before long. I don't intend to be longer than Sept - unless I am providentially hindered. I do hope you are all well.
I am not well this morning as I have an awful head cold. It is so awful warm here. You wrote of going to Louisville. I did not know whether to write or not, but will so risk it. Your Uncle Bob came here yesterday and he said there was no work in Louisville. He said you could get work in St. Louis. I was telling him about you and your girl _______ expected you and her would _________ him she was a good girl but _________ now for you was ________ for fear you would get one that would and be good to the babies.
He received a letter from Eula. Said she seemed to be in a heap of trouble, said if he could help her in any way he would, but didn't think she ought to get out of a home. I think if she could get some old lady to stay with her and stay on her place she could do well there. Huber and Annie could advise her what is best for her. God knows I would if I had it in in my. I would do any thing I could to help any of you that were in trouble. And Bob would, I know. He thinks a world of you. He said you would come out all right. He said every body speaks well of you. And you can make your mark in life.
Now, Doil, if you get this, write at once. Uncle Bob will go way the first of next week and he would like to hear how you are getting a long. When does Mr. Raimer's election come off. I will write to Eula and Ethel soon. Give my love to all and kiss babies for sure. Tell them that ________ wants them to be good little boys ________ to come see them _________ day I wrote to Gill ____________ but never received a line from them. I will by and by. Where is Bruce now. Give my love to him. Tell him I think of him often and hope he is getting on all right. Bob is sorry some of you did not keep ___________."
There was a letter in the papers of D.D. Reeves from the Shenandoah Life Insurance Co. dated September 1, 1928. It was addressed to him at 44 Gerald Avenue, Highland Park, Michigan. It notified him of a premium of $71.40 due on October 10th.
Also in his papers, was a "paid in full" receipt dated October 10, 1922, likely to pay for the birth of his son Lester earlier that year.