Isaac D. Boucher
(January 29, 1800 — July 5, 1876)
Mary (Polly) Buchanan
(January 12, 1809 — 1896)
Parents:

Peter Boucher, Jr. and Sarah (Sally) Goodnight
Joshua Buchanan, Jr. and Susan Wood


Daughter:

Melisa Ann Boucher
Isaac D.[1] Boucher was a farmer. He was born in 1800 in what is now Allen County, Kentucky[2]. (Back then, it was part of Warren or Barren County.)
He was married twice, first to Lucinda Travis on May 3, 1829, in Allen County.[3] They had one child, Lemuel T. Boucher, in 1831.[4]
The 1830 census showed Isaac as the head of a household consisting of one male between the ages of thirty and forty and one female between the ages of twenty and thirty. This was Lucinda Travis.[5] This was the last mention of her in surviving records. Nothing says why Lucinda went out of the picture, but, considering the timing of her disappearance from the records and Isaac's remarriage in 1833, it is certainly possible she died in childbirth.
Isaac Boucher bought the real property in Allen County in 1830. An abstract follows:
This Indenture made this 4th day of October 1830 between JAMES TRAVIS of the County of Allen and state of Kentucky of the one part and ISAAC BOUCHER of the County and State aforesaid of the other part ... in consideration of $45.50 .... sell... unto the said ISAAC BOUCHER ... parcel of land ... being in the County of Allen on the waters of Bays fork and bounded ... containing 100 acres it being a part of a 200 acre survey ... in the name of REUBIN JORDAN and patented to RALPH WILLIAMS and JAMES TRAVIS together .... Signed: JAMES TRAVIS, ELIZABETH TRAVIS .... ELIZABETH TRAVIS wife of the granter ... relinquished all dower in said land ....[6]
Isaac next married Polly on July 8, 1833, in Allen County.[7] They had six children: Melisa Ann Boucher[8], Marshall N. Boucher[9], Elbert S. Boucher[10], Sarah Frances Boucher[11], Julia Ann Boucher[12] and Lucinda S. Boucher[13].
He is shown in Allen County, Kentucky Wills, and Settlements, 1815-1902 as a surety on a nuncupative (handwritten) will speak of Jacob Boucher (probably Isaac's younger brother). Property buyers from Jacob Boucher's estate included Isaac Goodnight, Peter Boucher, and Jesse Godley. No date is given, but placement in the records indicates the early 1830s.[14]
A Rootsweb posting showed drawings of Allen County schools and a description of their history. One related to land given by Isaac Boucher. It said, "Boucher School had its beginning in the period 1847-1850. The pioneer families of the somewhat isolated area seven miles northwest of Scottsville felt the need of a local source to educate their children. Isaac Boucher was given a land grant by the Commonwealth of Kentucky, and from this tract he donated a parcel of land and the logs for the building. The neighborhood worked together to construct this first school in the area. The one-room school was used for about 20 years."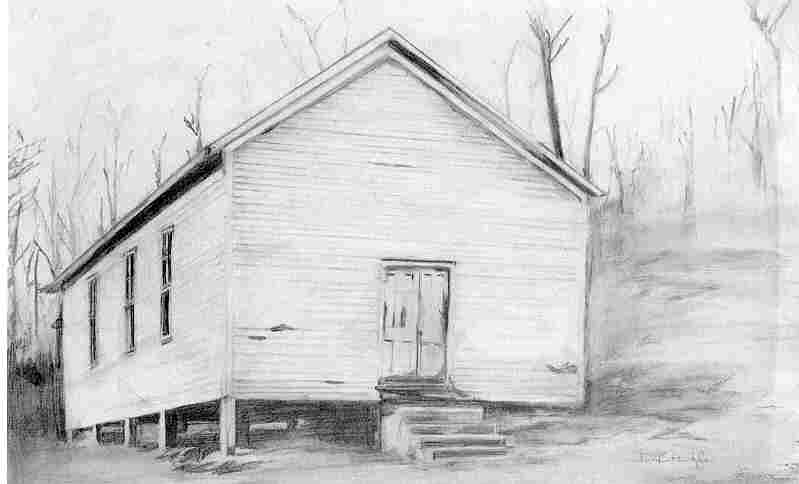 "However, it was in an area that at times was subject to isolation by flooding of a branch nearby. About 1866 Matison Boucher gave another parcel of land for a new school. He also gave the lumber, and again the neighbors worked together in the construction. This same building was used until the school was closed. Boucher School consolidated with other schools in 1937. For some ninety years, several generations of children received their basic education in the one-room school. Treasured memories remain among Allen Countians and others who attended Boucher School. Among the teachers who contributed their best efforts for the children were: Arlie P. Macon, Vera Mitchell Whorton, Lorene Tabor Sledge, Pearl Meredith Sikes, and Nellie Dean Downing."[15]
The 1850 census showed Isaac as a 50-year-old farmer. His wife, "M.", was 39. Living with them were M.A. Boucher (a 16-year-old female), S. Boucher (a 19-year-old male, then farming), N.M. Boucher (a 17-year-old male then farming), M.N, Boucher (a 12-year-old male), E.S. Boucher (a 10-year-old male), S.A. Boucher (an 8-year-old female), J.A. Boucher (a 7-year old female) and S.A.H. Boucher (a 5-year old female). Isaac and Mary owned real estate valued at $1,500. All in the household were born in Kentucky. Mary was not being able to read and write. Three of the children attended school in the preceding year.[16]
Isaac Boucher was appointed on December 15, 1854, as the estate administrator of his father, Peter Boucher. He made a bond in that capacity with William Spencer as surety.[17]
The 1860 census showed Isaac as a 59-year-old farmer. Mary was a 52-year-old and keeping house. L.S. Boucher, a 14-year-old female, and Allen Nagover (spelling?), a 14-year-old male. They owned land worth $1,300 and personal property valued at $250. Listed just above them were Isaac and Mary's son E.S. Boucher and his wife, N.J Boucher. Their son Marshal and his wife and child were listed just below them. All were born in Kentucky and could read and write, except Elbert's wife.[18]
Isaac died on July 5, 1876, and Polly in 1896, both in Allen County.