Mary F. Warder
(About 1828 — After 1900)
John Alexander Ewing (Alexander)[2] was born in Tennessee in about 1822[3].   His wife was born in about 1828 in Kentucky. They were married on August 23, 1846 in Barren County, Kentucky.[4]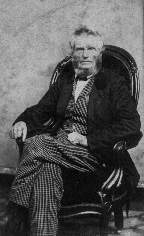 The gentleman sitting in the chair in the photograph above is William Graham (1799-1881). We are not,as far as I know, related to him, but I had no other picture to put on this page, so here he is.
Most of the information about them comes from census records.   The couple first appeared as a couple in the 1850 census records for Barren County, Kentucky[5], but afterwards were in the Allen County, Kentucky records.
The 1850 census[6] showed this Ewing family with John A. Ewing then a 28-year old tailor living "in Glasgow in the first Division." He owned real estate valued at $800. He was born in Tennessee. Mary F. Ewing was 22-years old.  
The other people listed on that census page were physicians, lawyers, merchants and tailors. That is significant because the census takers usually went door to door, so it showed who his neighbors were. He lived in town in an era when most people lived on farms.
According to the 1860 census[7] for Allen County, Kentucky "J.A. Ewing" was the 36-year old head of a household consisting of his wife, age 31, and two children, J.H., age 12, and D, age 2. He worked as a tailor and Mary was "keeping house." They owned real property worth $1,200 and personal property worth $2,000.   All were listed as having been born in Kentucky.
  The 1870 census[8] also showed this Ewing family with John Alexander Ewing being 46 and still working as a tailor.   Mary was 41 and a housewife.
By 1880, the Ewing family had suffered a loss.  The census[9] showed Mary as a fifty-five year old widow. It said that she and her all were born in Kentucky. Her occupation was "keeping house." The only person living with her at the time was her son, "D."   He was then about twenty-two.
 The 1900 census[10] shows her as being born in April 1826. (Unclear)   She was widowed, having previously married for 48 years.  (Unless she remarried after being married to John Alexander, that is probably not true.)   She was shown as the mother of two children, both then still living.   She was living with her son, Dee Ewing.
Actually, Alexander and Mary had at least three children, and maybe a fourth.   The ones we know about were John Henry Ewing[11], Dee Ewing[12] and Almarr Ewing[13] (who died in infancy)[14].
The evidence of the fourth child comes from a book reporting Allen County, Kentucky births, deaths and marriages[15].   It said that Alexander and Mary were the parents of a child born on July 27, 1852 in "Barren." The child was male, but no name was recorded. Another record listed in that same book showed that "D." Ewing was born to A. Ewing and Mary F. Warden in Allen County in 1858. This latter date is consistent with census records indicating Dee's birth as about 1857 or 1858. It is likely, then, that it is another child whose name we do not have, perhaps because he died while still young.
No information is known yet about his parents.