(November 15, 1811 — December 2, 1885)
(April 18, 1812 — August 11, 1894)
Burkesville, Kentucky was incorporated in 1810. It was—and still is—the only city in Cumberland County[1]. In 1810, there were only 1,101 people living there. (By the 2000 census, the population had grown, but only to just above 7,000.) The following year, Samuel Pharis was born, the sixth or seventh child in his family. His wife, Sarah (Sally) Norris, was born there the next year.
They married in about 1833[2]. We do not know where. By 1941, however, they had moved to Hickman County in the far western part of Kentucky, on the Mississippi River. There, they had four children (as shown in the box below) and lived out the rest of their lives.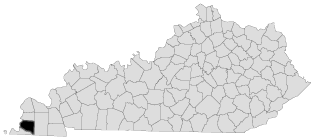 | | | |
| --- | --- | --- |
| Eliza Caroline Pharis | January 1, 1842 | July 15, 1891 |
| Sarah Perlina Pharis | July 27, 1834 | May 18, 1860 |
| Nathan Pharis | October 11, 1837 | October 14, 1904 |
| William B. Pharis | March 4, 1839 | December 8, 1914 |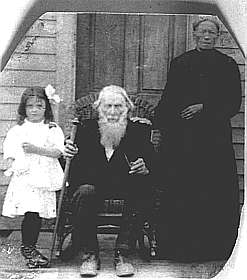 The 1860 United States Census for Hickman County, Kentucky showed him as a 49-year old farmer owning real estate valued at $1,800 and personal property valued at $400. He was not able to read and write. He was the head of a household consisting of himself, his wife Sarah Farris (age 47 and born in Virginia ) and three children, all born in Kentucky: Nathan Farris ( a farmhand, age 22), Eliza C. Farris (age 19; she was shown as having attended school within the past year) and Polina (sic) Farris (age 13).[4]
Samuel Pharis (center) and Sarah (Sallie) Norris with their granddaughter Perelinda (?). Circa 1866, Hickman County, Ky.[3]
Samuel and Sarah's eldest son, William was shown two families above them. He was then a 24-year old farmer having $200 of personal property. He was born in Kentucky and as being unable to read and write. He was married to Maria E., age 17, and born in Kentucky.[5]
Both Samuel and Sarah died in Hickman County, Kentucky, where they are buried in Mt. Moriah Cemetery. Samuel died on December 2, 1885 at 74 years old and Sarah on August 11, 1894 at 82.