(May 22, 1837 — October 7, 1916)
(December 30, 1834 — March 4, 1919)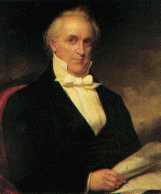 In 1857, James Buchanan was sworn in as president of the United States. One of his successors, William Howard Taft, was born. Elisha Otis' first elevator was installed in New York City. The United States Supreme Court handed down the Dred Scott decision that drove the country towards the Civil War. And James H. Reeves and Sarah Ann Runner began their almost sixty years of married life together in Warren County, Kentucky on January 14, 1857.[1]
The "Warren County, Kentucky, Index to Marriages — White, 1797 to 1900" lists the marriage of James H. Reeves to Sarah Ann Runner.[2] Their fathers, P.M. Reeves and Benjamin Runner, signed their marriage bond.
He was called either "Jim" or "Squire". He was buried in the Fairview Cemetery, Bowling Green, Kentucky. He was an 1852 charter member of the Mt. Zion Church of Christ. He was later a member of the Christian church. He once served as magistrate and constable. He is listed in the 1850 United States Census.[3]
The 1850 census for Warren County, Kentucky also lists Sarah as a 15 year old who was born in Kentucky.[4]
The 1860 census showed the new Reeves family. James was a 23-year old resident of Warren County, Kentucky. He was a farmer and married to Sarah, age 25. They owned real estate valued at $300 and personal property valued at $350. They had one child living with them: Henry Reeves, ten months old. It showed all three as being born in Kentucky.[5]
James and Sarah had seven children, all born in Warren County: Elizabeth Reeves[6], Henry Hudnall Reeves[7], George Webster Reeves[8], Sarah Francis Reeves[9], Laura Ida Reeves[10], Luther Reeves[11] and Milburn (Mill) Reeves[12].
Warren County, Kentucky real estate records show James H. (J.H.) Reeves as being involved in three real estate transactions. The first was the sale of property to his son, Luther Reeves.[13] The second was the sale of property to J.H. Stahl.[14] The third was a purchase of real estate from Luther Reeves[15].
There was an original deed in the papers of Doile Dennis Reeves (now in the possession of Brian Reeves) showing a transfer of real property from J.H. Reeves and Sarah A. Reeves (she signed by her mark) to G.W. Reeves and Allie L. Reeves. The deed is handwritten and dated January 22, 1989.[16] It covers land on the waters of Clifty Creek in Warren County, Kentucky. The sale price was $300, for which J.H. Reeves took the note of his son, G.W. There is a margin release reflecting the notes were paid off on January 17, 1895.
James H. Reeves and Sarah A. Reeves posted a bond in May 1882 as executor for his father, Peter M. Reeves. Sarah A. Reeves signed by her mark. James H. Reeves posted another bond as executor of the estate of P.M. Reeves on April 28, 1884.
A newspaper clipping in the possession of his grandson Doile Dennis Reeves[17] in July 1976, said: "James H. Reeves, died on a Saturday morning at age 79. He was a Warren County farmer of the Greencastle neighborhood. He was ill for a period of 8 years prior to his death and was confined to a bed for the last 6 months. The death of Sq. Reeves removes one of Warren's substantial citizens." He was also termed "one of Warren's most prosperous and prominent farmers".
Kentucky death records showed his date and place of death and that he died at age 79.[18] Sarah is buried in the Mt. Zion Cemetery in Warren County, Kentucky.
A typewritten copy of the will of James H. Reeves is recorded in the Warren County, Kentucky Courthouse.[19] It says:
I, James H. Reeves, of Warren County, Kentucky, make and publish this to be my last will and testament, hereby revoking all others purporting to be wills or otherwise.
1st. After my death, I desire that all my just debts be paid including burial and funeral expenses and suitable tombstones placed at my grave.
2nd. If my wife, Sarah Ann Reeves, should survive me, I bequeath to my beloved wife, all of my real and personal property of every species and kind, during her life, and at her decease, then I give and bequeath all the remainder of my property to my four living children and grandchildren, namely: Henry H. Reeves, G.W. Reeves, Ida Stahl, wife of I.H. Stahl, Wilburn Reeves, and to the heirs of Luther Reeves, and to my granddaughter, Lola Jordan. All to share and share alike equally in all property there be left. And if any of my children should die, and leave no living issue, then their share to revert back to my estate, and I hereby appoints S.E. Miller my administrator to my estate without bond.
In testimony whereof, I hereunto set my hand this 24th day of May, 1916."
Witness: R.A. Shields James H. Reeves
S.E. Miller
State of Kentucky )
) Sct.
Warren County Clerk) October term, 1916
The foregoing will of J.H. Reeves was this day produced in open Court and offered for probate and proved by the oaths of R.A. Shields and S.E. Miller, subscribing witnesses, and ordered to be recorded, which is done.