Jesse S. Godley
(About 1805 — January 1873)
Mary Stark
(1798 — After October 1873)
The big news of 1805 was that explorers Meriwether Lewis and William Clark—the first Americans to cross the continent—reached the Pacific Ocean. Well, it was the biggest news that happened in 1805.   You wouldn't find it in the newspapers that year, though, since, without radio, television or even Pony Express or telegraph, people did not know about the expedition until the next year, after they returned.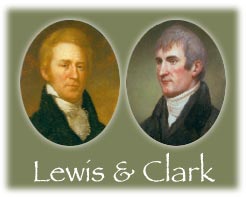 Also in 1805[1], Jesse Godley was born in Fauquier County, in northern Virginia. Three years later, his future wife Mary Stark was also born there. We don't know when and where they married. The next they show up in the records was when they married on October 18, 1824 in Allen County, Kentucky.[2]   Jesse was 19 and Mary 16. Jesse likely moved to Allen County by 1815, when his younger brother, Mumford, was born.   All the records pertaining to them showed them in Allen County after that.
The 1830 census[3] showed that eight people were living in the household: both a boy and a girl under five years old, two males between ten and fifteen years old, both a male and a female between fifteen and twenty and both a young man and a young woman between twenty and thirty. Jesse and Mary owned 13 slaves.
Mary Stark is listed as being a beneficiary of the November 11, 1832 will of her sister, Elizabeth Stark (Morehead) as reproduced on page 148 in Allen County, Kentucky Wills and Settlements, 1815-1902.[4]
The 1840 census again shows the family again.[5]  This census lists people other than the head of household only by gender and age groups.   It shows in his household were a male between 10 and 15, one between 20 and 30 and another between 30 and 40 (Jesse), as well as two females, one between 20 and 30 and another between 30 and 40 (Mary).
It lists Mary's brother Festus Stark and her sister Lucy Stark on the same page.   Also on that page is Elizabeth Godley, a female between 60 and 70 years of age. Proximity on the census form likely indicated they lived in close proximity to each other.
Jesse S. Godley next showed up in the records five years later when he witnessed the will of Benjamin Bailey on September 17, 1845. He is shown there as a buyer of property from the estate of Jacob Boucher in an undated nuncupative will, probably probated in the early 1830's. Other buyers included Isaac Goodnight and Peter Boucher.
A listing of real estate records before the 1850's indicated there is a deed in Allen County Deed Book D, Page-148 from G. Duncan & c to J.S. Godley.
Sarah Fishback's will (she was a distant cousin) dated January 15, 1847 and probated on February 8, 1847 [6] said:
I appoint Jessee S. Godley executor. I give and bequeath all my estate to the children of my two sisters, Elizabeth Morehead, deceased, and Mary Claypool, to be equally divided between the two. My will is that my sister Mary Claypool have all the property in any waise (sic) belonging at valuation. I authorize Jesse Godley retain all money in his hands coming from my estate to the children of Elizabeth Morehead until they reach age 21.
Witt: Dillard G. Stark and J.G. Benedict.
The slave schedules for the 1850 census showed J.S. Godley, then 45 years old, owning seventeen slaves.[7]
The 1860 census shows him living in the Gainsville (sic) District.[8] As follows:
P
842 830 J.S. Godley 65 M Farmer 6000 14000 VA
Mary Godley 62 F Housewife - - VA
Amanda Godley 49 F Seamstress 2500 5000 KY
843 831 John S Godley 43 M Farming - 1000 KY
Manda R. Godley 28 F Housewife - - KY
M.S. Godley 10 F - - - KY
J.S. Read 29 M Carpenter - - KY
Note:   The Amanda Godley shown in Jesse S. Godley's household above is likely the wife of his deceased brother, Mumford Godley.   The census record shows she owns $2,500 of real estate.   Considering the customs of the times, it is more likely that she inherited this property from a father or a brother than that she acquired it in some other way.
The slave schedules for the 1860 census showed J.S. Godley, age 55, as the owner of eighteen slaves. He owned two slave houses.[9]     The next listing was for Amanda Stark.   She owned eight slaves. Their son, John S. Godley, then owned a single slave, a 35-year old woman.[10]
The 1870 census showed "Jessee Godley" as a 65-year old farmer with real estate valued at $4,000 and personal property worth $5,410.   His wife, Mary, was 63 and "keeping house."   They were part of the household of Willis E. Atwood, a 28-year old farmer and his wife Ann E. Atwood. (No known relationship.)[11]
Jesse made his own will on January 4, 1871. It was probated on January 13, 1873 Isaac Boucher was one of the executors of his estate. The text of the brief will is as follows:
I bequeath all my property to my wife, Mary, to do with as she pleases.
The witnesses were GM. Mulligan and W.R. Shephard.[12]
All of this tells us that Jesse was a successful farmer (the value of his land and the number of slaves he owned tells us that) and that he was something of a free thinker.  The norm for the time was for a husband to leave his wife a life estate in his property with it then going to his children upon his death.  Jesse left it all to his wife.
He apparently was well thought of by his friends and family as is shown by the people who named him to help carry out their final wishes.