Thompson Walton
(January 4, 1747 — 1824)
Susan Rice
(February 17, 1750 — Unknown)
Thompson Walton was born on January 4, 1747[1] in Hanover County, Virginia. He lived there throughout his childhood.
Somewhere along the line, Thompson married Susan Rice[2]. She was born on February 21, 1755, but that is all we know about her. No marriage record has been found, however, since all of the Hanover County records was destroyed in 1865, during the Civil War, we would not be able to find the records if they married there.
By his late twenties, Thompson had decamped to nearby Albemarle County, Virginia. His brother Ison moved with him or at about the same time. Ison worked as a surveyor. The records in Albemarle County are filled with Ison's name. Thompson and Sarah had nine children, all born in Albemarle County.
| | |
| --- | --- |
| David Rice Walton | October 10, 1776 |
| Sarah (Sally) Susan Walton | August 15, 1778 |
| Lurane Walton | September 8, 1780 |
| Elizabeth Walton | December 5, 1782 |
| Judah Walton | July 17, 1785 |
| John Walton | March 25, 1787 |
| Olley Walton | December 25, 1788 |
| Jesse Rice Walton | July 9, 1790 |
| Hendley Emily Walton | February 14, 1791 |
On December 1, 1782, when he was thirty-five, Thompson bought the land on which he then lived, 294 acres in Albemarle County. The deed was signed by or in the presence of Thompson's brother Ison Walton and others. It was attested by Ison Walton, by Ison and Thompson's father, Edward Walton, by Thompson's brother-in-law Lewis Davis and by others. The price was "four hundred pounds Current money of Virginia."[3]
Three years later, by deed dated October 13, 1785, Thompson and Sarah sold to Jonathan Tyree for "the Sum of twelve pounds Current Money of Virginia to them in hand paid" 25 acres in Albemarle County, Virginia. Neither signed by an 'x'.[4]
That same day, they also sold to James Gentry "in Consideration of the Sum of forty pounds Current Money of Virginia" 200 acres in Albemarle County, Virginia. This deed was recorded in Albemarle October Court in 1785.[5]
As mentioned above, Ison Walton was a surveyor. The Albemarle order books often show him as being charged to survey roads. At the time, surveyors not only surveyed the roads, but built and maintained them as well. Ison was one of several men who did a lot of the work. Some of the men (not Ison) were indicted by the court for failing to maintain the roads they had contracted to maintain. Intermingled in the records during this time were several roadway requests from future presidents Thomas Jefferson and James Madison.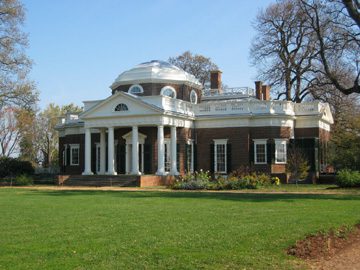 These county roadway records mention Thompson three times over seventeen years. He may have been actively working, perhaps helping his brother, or may have just hired out some of his slaves to assist in constructing the roads.
For instance, on October 2, 1798, the records said,
Thomas Jefferson's Albemarle County home, Monticello
George Gentry is appointed surveyor of the Road from the Doctor's old field to above Matthew Rodes shop to the first fork above Fretwells Store with following Male laboring Tythes to wit Matthew Rodes Thompson Waltons . . . .[6]
On February 6, 1809, the records reported,
It is ordered that the following male Labouring tytheables[7] be added to those at the Present under Thompson Walton Surveyor of the road from the fork of the road above Fretwells old store to the sign post near McCullocks mill . . . to Keep the same in good repair.[8]
Finally, on November 16, 1815, the records say,
"William Norris is appointed surveyor of the road from the fork above Fretwells old store to the fork of the road in Matthew Rodes old field, in the room of Thompson Walton with the hands as per list (to keep the same in good repair) . . . . "[9]
October 1, 1810 , Thompson Walton testified at a court in Albemarle County to prove the will of George Gentry. Among those who had signed as a witness was Ison Walton.[10]
A copy of the Thompson Walton Family Bible Record,[11] listed as the "Tomson Walton Bible," shows the following:
Tomson Walton Born Jan.r 4th 17--
Sarah Walton (wife) Born Feb 21 / 17--
David Rice Walton Son Do Octr 10 / 177-
Sarah Walton Born the (Aug?) 15 / 1778
Lurane Walton born the Sep. 8 /1780
Elizabeth Walton Do the Decr 5 / 1782
Judah Walton Born the July (7, but maybe 17) / 1785
[Next 4 very faded - cannot verify dates]
John Walton born May
Olley Walton born Dec
Jesse Walton born July --, 179-
Hendly Walton Born Feb --, 179-
Elizh. [abbrev. like Andr.] Walton sister to Tomson Walton
born Sepr 17th 1743
Agnes Do Born Jan 7 1745
Isom Walton (Brother) Mar.h (15) 1750
Richmond Walton Do June 27) 1753
Salley Walton Do Ap --- (21) 1755
Bettey Walton Do Aug.ht (3) 1765
Salley Walton Do Octo.r (9) 1767
Milley Walton Do June (6) 1770
John Walton Do June (22) 1774
Lucrecy Walton Do Dec.r (4) 176(4?)
Thompson died on September 3, 1827.[12]