John (Johnnie) J. Basham
(April 12, 1875 — October 10, 1897)
Ada C. Miller
(August 1877 — September 12, 1908)
Parents:

James Herrod Basham and Mary Ann (Polly) Phelps


George W. Miller and Eliza Caroline Pharis

Daughter:

Johnnie Ethel Basham
John J. Basham and Ada C. Miller died young; Johnnie at twenty-two and Ada a decade later at thirty-one. Luckily for all of us, they had a child first. Unluckily for us, there are few records showing their existence because of their young deaths. Little family lore exists about them because their sole child, Johnnie Ethel Basham, also died young, at twenty-five.
Johnnie first shows up in the public records in the 1880 census. It shows him as a five-year-old son in the household of James H. Basham and Mary A. Basham in Renfrow in Butler County, Kentucky. James was a farmer, and Mary was "keeping house." Also in the household were his sisters, Mary J. Basham (age ten) and Jenette Basham (age seven), and his brother, George W. Basham (age one). Johnnie, his parents, and his siblings all were born in Kentucky.[1]
The 1890 census does not mention them. And by the time of the 1900 census, Johnnie was already dead. However, the 1900 census for Warren County, Kentucky, shows Mary again. She was twenty-two years old and had been remarried for two months to George Basham. Presumptively, this is George Washington Basham, Johnnie's younger brother. The record shows that Ada and George had a 2-year-old daughter, Johnnie E. Basham, who was established as the stepdaughter of George Washington Basham. She had no other children, living or deceased. (This census record seems to show her first name as "Adar.")[2]
She had another child with George. The only evidence of this is a small newspaper clipping in the papers of Doile Dennis Reeves said:
George and Ada Bashmam's (sic) baby girl, about one-year-old, died last Wednesday, May 27, and was buried at Green River Union Thursday.
A handwritten scrap of paper in possession of Norah (Mrs. Doile Dennis) Reeves at the time of her death contained the following information:
J.J. Basham was born on Apr-12-1875
Died October 10-1897.
Elden C. Basham
died May 27, 1908
Ada C. Basham
born Aug-31-1877
died September 12-1908
The above was written on a scrap of paper torn out of a book, perhaps a small bible. On the reverse side, it says: "Presented to Ada Basham by her husband J.J. Basham. September 7, 1897."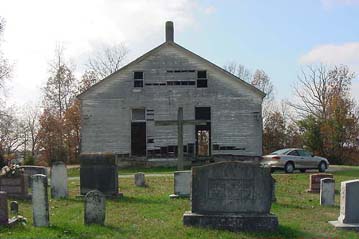 Modern picture of the Green River Meeting House.
James Hudnall, Jr, founded it.
Johnnie Basham is buried at Greenwood Union Meeting House[3], Richardsville, Warren County, Kentucky. Ada Miller died of typhoid[4] and is buried there, too.[5]
In the papers of Doile Dennis Reeves, there was a leaf from a small book, probably a bible. It is inscribed on one side: "Presented to Ada Basham by her husband J.J. Basham, September 7, 1897," just one month before his death. On the other side is inscribed:
J.J. Basham was born on Apr - 12 - 1875
Died Oct - 10 - 1897
Elden C. Basham
Died May 27, 1908
Ada C. Basham
born Aug - 31 - 1877
Died September 12 – 1908
A marriage bond in the Warren County, Kentucky Courthouse dated December 1, 1899, shows the marriage of "Mrs. Ada M. Basham" and "Geo. W. Basham." The surety on it was J.H. Basham. Her name was listed as "Mrs. Ada M. Basham," meaning she was previously married to a man named Basham.[6] We know this to be Johnnie.
George Washington Basham died on 1950 and was buried in the Green River Meeting House Cemetery.[7]