William Hume
(About 1734 — December 1809)
(Unknown) Granville
( — )
Parents:
George Hume and Elizabeth Proctor
Unknown Granville and Unknown
Son:

John Hume
The constant in William Hume's life seems to have been change.
He was born in Fredericksburg, Virginia in about 1734. He died in December 1809 in Campbell County, Kentucky. In between, he had three wives (apparently outliving at least the first two of them), ten children (outliving at least one of them), and lived in Kentucky (at least two places), back to Virginia and then back to Kentucky again.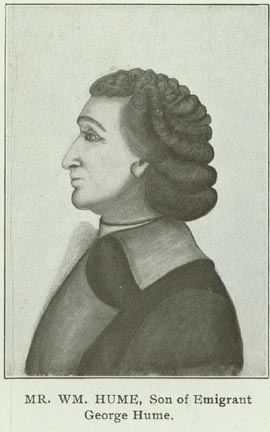 According to an online genealogy, his first wife seems to have been Susan Elzephan, a South Carolinian, also born in 1734. They married in about 1753[1], when William was 19. We do not know what happened to Susan, but William married again just two years later, in 1755[2], to a woman whose last name was Granville[3]. This wife died by about 1777.
Together, they had two sons, both born in Charleston, South Carolina. First was John Hume, born in about 1750 and second was Alexander Hume, born in about 1755.
Alexander was a lieutenant in the Second South Carolina regiment and died in Savannah, Georgia on October 9, 1777 in one of the first battles in the American Revolutionary War.[4]
Marriage bond abstracts show the years of the marriages, but none have been discovered validating the two years of birth. I suspect the birth dates shown above, though apparently accepted by other researchers, are not accurate.
Which brings up a point.
While there is no doubt from the records that William is the father of John and the son of George and Elizabeth, there is much in the way of conflicting information available about William's children, and which ones were born to which wife.   I have sifted through the information and have arrived at the above conclusions. Further examination of primary records may lead to different connections.   Skepticism is warranted.[5]
On October 29, 1782,[6] William married again, this time in Virginia to Sarah Benson. She was the widow of a man named Baker. (A William Hume listed in an Orange County, Virginia census taken in 1782.)   He had a household of six whites and four blacks.[7]   William and Sarah had six children:
| | | |
| --- | --- | --- |
| Gabriel Hume | Before 1775 Bourbon County, Kentucky | Before October 2, 1843 Callaway County, Missouri |
| Stripling Benson Hume | Before 1775 Pendleton County, Kentucky | Before February 3, 1840 Pendleton County, Kentucky |
| Joseph Hume | About 1775 | 1842 |
| Pru B. (Jefferson) Hume | About 1780 Kentucky | 1842 Nacogdoches, Texas |
| Elizabeth Proctor Hume | 1782 Virginia | March 4, 1867 Liberty, , Illinois |
| Joel Hume | About 1799 | December 13, 1849 Covington, , Kentucky |
According to one source, William moved to Bourbon County, Kentucky in 1793 and purchased land from Gerrard Hume of Campbell County, Kentucky on July 3, 1796.[8]
An abstract of Pendleton County court records for the March Term of 1807 showed that William Hume was the plaintiff in a lawsuit for trespass against James Theobald, defendant on an action in trespass.
"During the course of the trial the following evidence was heard: Robert Childers stated that in the winter of the year 1805 he was at the house of Stripling Hume in the county of Pendleton in company with the plaintiff, defendant and a certain Jeremiah Hyfield and hear it expressly agreed upon between the ptff. and deft. that their title to the premises in the ptff's. declaration mentioned were conflicting, and they jointly rented the said premises to the sd. Hyfield who was to hold under their joint titles as their lessee and that their titles were submitted and to referees by them named to be examined into and a day named that he whose claim should be best should derive the advantages & proceeds of the said leased premises, and that the sd. Hyfield immediately made preparation for the cultivation thereof by hauling logs thereon to build and the the sd. Ptff. failed to attend the arbitrators to have his title investigated and the dispute settled.  It was also proven that the said Hyfield never did take possession by residing on the premises; but that shortly after the time of afsd. conversation and agreement as proven by sd. Childers, the house upon the premises was burnt & Hyfield determined to have nothing to do with them and "payed" no further attention to the place.  (Note:  The logs hauled on the land by Hyfield were later hauled off by defendants and the house burned.  No decision reached at this court.)[9]
William Hume was a witness to the will of William Benson. The will was written on August 24, 1808 and was probated in April 1811 in Campbell County, Kentucky. It mentioned William Benson's sons Thomas, Jayne and Zachariah and his daughters Betsy Hord and Polly Benson.   There is nothing in the will to indicate whether this Benson is related to William Hume's wife, Sarah Benson.[10]
In February, 1809, William Hume and William Benson were appointed as administrators of the Estate of George Benson, who was termed as "supposed to be deceased."[11]
One source said that William ran a store for a number of years.   He then returned to Virginia in 1805 for a visit. They then returned to Campbell County, Kentucky, where he died by December 1809 of pneumonia from the cold mountain crossing.[12]
William Hume's will follows:
County of Pendleton, State of Kentucky.
I, William Hume of Bourbon County being weak and low in health but of sound mind and memory and wishing to dispose of my property, do constitute this last will and testament revoking all others heretofore.
Item: I leave all my lands and movable property to my wife Sarah during her life or widowhood.
Item: At her death I wish all my property to be equally divided amongst my six children except my son Joel that is to have one featherbed and furniture extraordinary and what will give him a good education.
Item: If my wife Sarah should die before Joel becomes of age I wish either Stripling B. Hume or Gabriel Hume to take him under their care.
Item: I leave my wife Sarah and two sons Stripling B. Hume and Gabriel Hume my executrix and executers as witness my hand and seal this 30 day of December 1808, Signed and sealed and delivered in presence of:
Edward Hord William x Hume (Seal) mark
James Benson
Zachariah Benson
Elizabeth Hoard
William Benson
Pendleton County Court
March 19, 1810
The foregoing will was proven by the oaths of James Benson and Wm. Benson, two of the subscribing witnesses thereto and ordered to be recorded which is accordingly done.
Attest: Press G. Kennett, C.P.C.
Another will (or perhaps another version of the same will) was probated in Bourbon County, Kentucky. It said:
WILL OF WILLIAM HUME OF BOURBON COUNTY
Being weak and low in health....My six children, except my son Joel - he is to have a liberal education. If my wife should die before Joel comes of full age, then he is to be cared for by Stripling B. Hume and Gabriel Hume. Executors: Wife, Sarah, Sons, Stripling and Gabriel Hume. Witnesses: Edward Hord, James Benson, Zacharian Benson, Elizabeth Hord, and William Benson.
Written December 30, 1808; Probated March 19, 1810 [13]