Lacy Leroy Ewing
(January 19, 1886 — March 2, 1942)
Nannie Maude Spears
(January 12, 1886 — September 30, 1976)
In 1886, Grover Cleveland was president of the United States (all thirty-eight of them) for the first of his two, non-consecutive terms.   Though the country was still young, it was a time of great progress.   The gramophone was patented that year, Coca-Cola was invented and the Statue of Liberty was unveiled in New York. Later that year, the famous Apache chief, Geronimo, was captured, signifying the end of the Indian wars.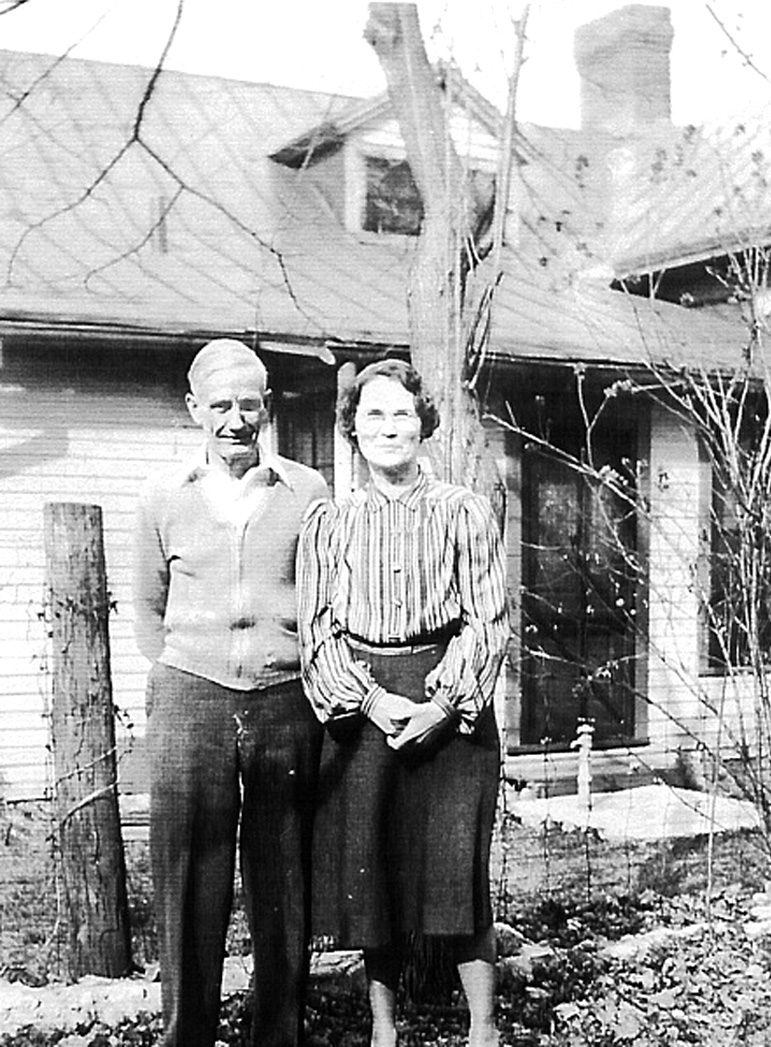 Lacy Leroy Ewing and Nannie Maude Spears Ewing in the back yard of their home on Eleventh Street (the picture shows the back of the house next door), Bowling Green, Kentucky.  Circa 1941.
In southwestern Kentucky, however, these events probably attracted little notice. Two families there had more important things to think about as the new year opened. Lacy Leroy Ewing was born on January 19, 1886, in Allen County, Kentucky, exactly one week after his future wife, Nannie Maude Spears (Maude), was born nearby. She was born near one side of Big Trammel Creek, and he near the other.
Lacy and Maude married on October 1, 1908, in Bowling Green, Kentucky. They had five children, four daughters and one son. Unfortunately, their only son, James Wilford Ewing, died barely a month after his 1916 birth.
Lacy's family moved to Bowling Green, Kentucky when he was a young child. He later told his youngest daughter, Dorothy Juanita Ewing, that he remembered it raining when they moved and the dye from his hat caused red streaks down his face.[1]
Mother always said Daddy had to stop school in the 5th grade (at Center Street School in B. G.) (age 11?) to go to work to support his mother and sickly sister.
Before my time:  (1) he went to East St. Louis to work painting and paperhanging--the family moved there too--(2) went to Detroit to work as a streetcar conductor, (3) went to Clearwater, Florida, to decoratively paint the inside of a church, (4) decoratively painted the Baptist Church dome in Bowling Green.
During my time:  (1) he painted many of the prestigious homes in B. G. including President Cherry's home on campus (now the Alumni House), (2) he repainted, in l929, the artwork originally done by a French painter in the Hobson House many years earlier, (3) he repaired and refinished antique furniture for my uncle, Edgar Jones, (4) we moved to Nashville in l937(?) (where I attended Tarbox School) where Daddy worked in a shop repairing and refinishing antique furniture.
It was in Nashville that Daddy suffered a stroke that incapacitated him to the extent he could no longer work.  We moved back to Bowling Green, on 11th Street, where we rented rooms to students and served meals.  His health gradually deteriorated, and he died in l942.[6]
Lacy worked as a painter and paperhanger in Bowling Green, Kentucky, where their eldest daughter, Berenice, was born in 1909).  The family then moved to East Saint Louis, Illinois[7] where his sister, Myrtle Marie Ewing then lived.  They were living there in 1911 when second daughter Nathalee was born.  According to Dorothy Juanita Ewing, he painted a church there.[8]  While there, he was a member of Local 215 of the Illinois Brotherhood of Painters, Decorators and Paperhangers of America.[9]
The Ewing family had returned to Bowling Green by the time their third daughter, Catherine, was born in October 10, 1913.  About six weeks later, the family was in Terrell, Texas, where Lacy's brothers Asher, Acheless and Jesse, along with sister Eula lived.[10]  According to Berenice's recollections as told to Dorothy in July 2005.
She [Catherine] traveled on a pillow.  The family went by train.  Mother placed her purse on the open, unscreened window and it fell out.  Daddy rushed to the conductor to try to stop the train so he could retrieve the purse, but it was to no avail.  She must have been carrying all the money, because they arrived without a cent.
They were met at the station by Daddy's oldest brother, Acheless, who took the five of them to live in a dilapidated two-room house.  Daddy planted a cotton crop.  When cotton-picking time arrived, there were no burlap bags for Berenice and Nathalee to use, so Mother made each of them a sack.  After the picking was finished, the bale of cotton was stored in Acheless's warehouse until it was sold, but the financial market was down (prior to World War I), so the warehousing fees ate up the profit.  Not financially better off than when they arrived, they moved back to Bowling Green late the next year (1914)
A personal note on Berenice:  While there she swallowed a nail.  She also developed "dropsy", also known as Texas Fever.[11]
The next year, the family was on the move again.  This time to Detroit, Michigan, where Lacy worked for Ford Motor Corporation where Henry Ford was then paying assembly workers the unheard of sum of five dollars a day.  He lived in a boarding house while there.[12]
Berenice recalls they moved back to Bowling Green when she was five so she could attend school there.  The family was still there when James Wilford Ewing was born and died in 1916.[13]
 Later in about 1917 or 1918, he moved to Indianapolis, Indiana, where he was a member of the Building Trade Department of the American Federation of Labor, State Building Trade Council of Indiana.[14]  According to Berenice:
He tried for a long time to get a job on a streetcar, and when he finally did get a job as a streetcar conductor it was rainy weather, and the streetcar was in bad shape with a lot of windows out.  He got wet and got sick.  He came back to Bowling Green right after the war.[15]
The family stayed in Bowling Green through at least March 1924, when youngest daughter Dorothy was born.
 Sometime not long thereafter, Lacy moved to Clearwater, Florida to paint churches.[16]
He did not stay in Florida long, however, returning to Bowling Green in time for him and Maude to buy a house at 1310 Kentucky Street there on November 1, 1928.  The purchase price was $3,250.  They paid $50 down and the seller financed the rest of the purchase price.  They sold the house on August 27, 1931.[17]
The same day they sold the Kentucky Street house, they bought a new house on the north corner of Indianola and 15th Streets in Bowling Green.  They sold that house a year later on August 15, 1932.[18]
He died in 1942, at age 56, in Bowling Green, Kentucky.   At that time, his older three daughters were all married and living away from home.   His youngest daughter, Dorothy, was 17 and still at home.  There was little money and Maude had to fend for herself.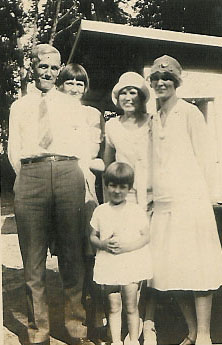 Lacy Leroy Ewing (left) with daughters, Nathalee Ewing (behind), Dorothy Ewing (foreground), Berenice (Bunny) Ewing ((behind Dorothy) and wife Maude, right. Circa 1928.[19]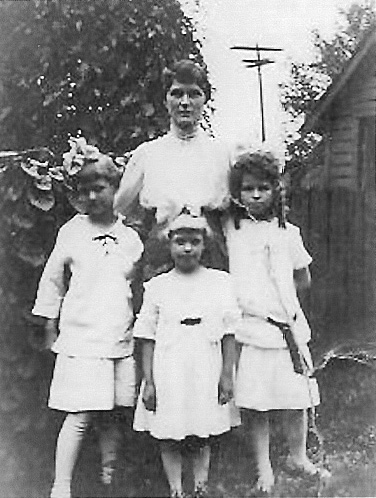 Nannie Maude Spears Ewing (rear) with her first three children, left to right, Nathalee, Catherine and Berenice (Bunny). Circa 1919.[20]
Maude soon moved to Washington, D.C. where she worked as a clerk-typist, first in the typing pool in the Civilian Personnel Division in the office of the Secretary of War and then in the office of the Adjutant General. She earned the same salary both places: $1440 a year.[21]  Dorothy was sent to live with Nathalee.
Maude took advantage of her spare time in Washington to do some sightseeing, including a visit to the United States Senate on October 20, 1942.   Her Senate visitor's pass was signed by Senator, later Vice-President, Alben Barkley of Kentucky.[22]
A month later, in November, Maude was transferred to the Adjutant General's Department of Dependency Benefits in Newark, New Jersey.[23]
She by then had received a raise to $1,620 a year.[24]
She later moved to Cincinnati where she worked in the War Department's Payment Records Branch and then, in October 1945, shortly after World War II ended, was transferred to the Allowance Branch.   She was then earning $2,232 a year.[25]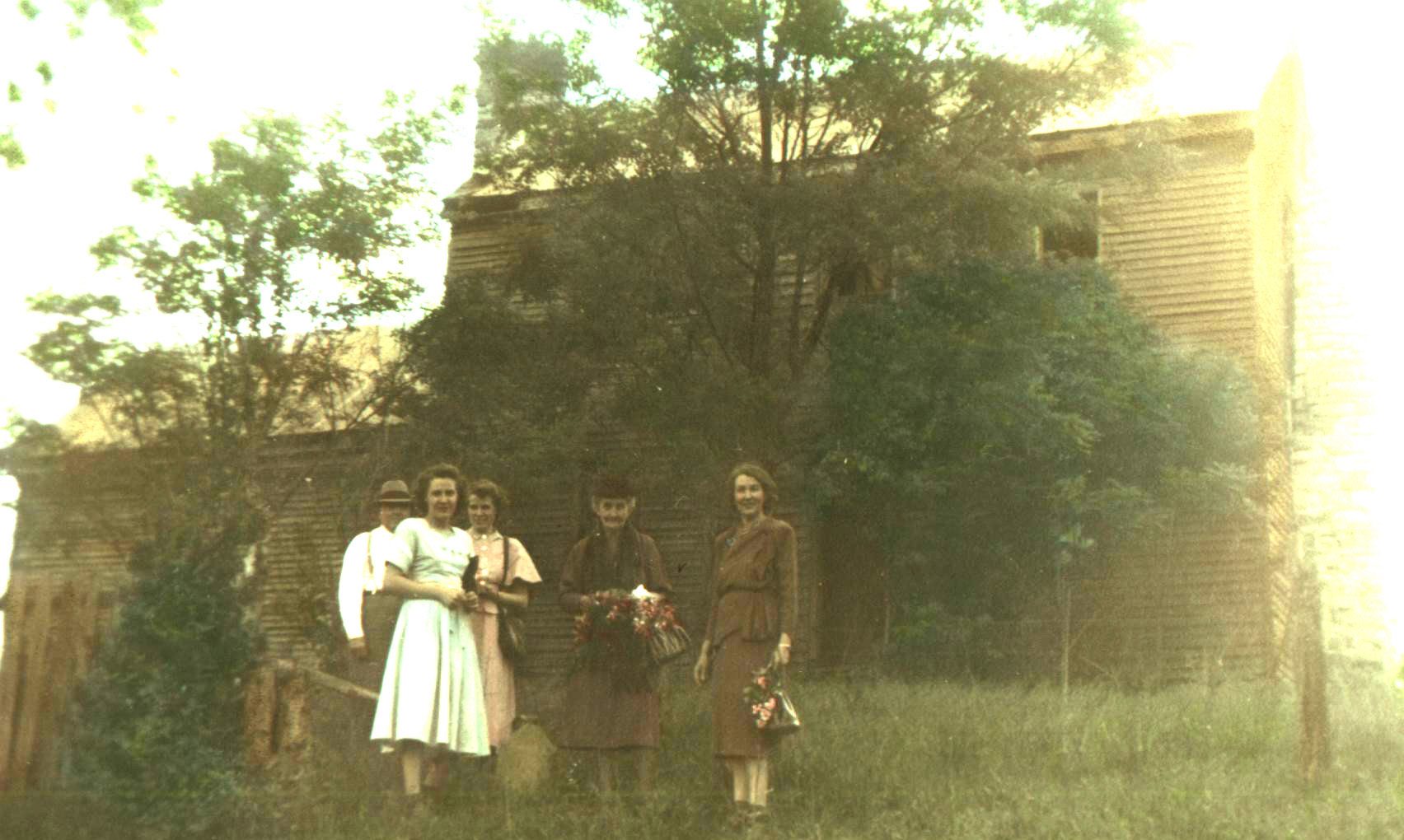 Lacy Leroy Ewing birthplace on Big Trammel Creek, Allen County, Kentucky.  Left to right, Carl W. Lindow, Dorothy Reeves, Berenice Lindow, Pearl Jones, and Ann (Anna May) Wagoner."  Circa 1960.  It was constructed with square-headed nails.[26]
She returned to Bowling Green, Kentucky, in ______, where she lived, with brief stints in Central City, Kentucky, and then in Gadsden, Alabama (where she lived for a couple of years near her daughter, Nathalee Ewing Love).  She died in Bowling Green on September 30, 1976, after a fall in which she struck her head.[27]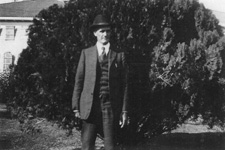 Lacy Leroy Ewing, in front of a building in Clearwater, Florida. Circa 1926.[28]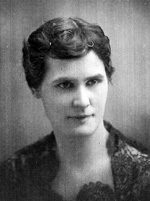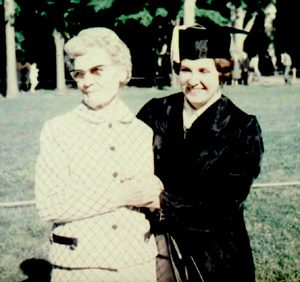 Maude at her daughter's graduation, 1974
Click on the above pictures to see a larger version with more information.