(April 1, 1845 — October 1936)
Both John and Sarah (Sallie) were born in Kentucky. He was probably born in Mason County, near Cincinnati. They had five children: Harry Price[1], Allie Elizabeth Price[2], Robert G. Price[3], Nannie Ella Price[4] and Zetta A. Price[5] and John V. Price.
He was shown in the 1850 census as a nine-year old resident of Mason County, Kentucky. He lived in the household of his mother, Alice S. Word. The only other resident of the home was Richard Word, age 16.[6]
John V. Price was a minister in the Christian Church. He lived in Shelby County, Kentucky in 1865.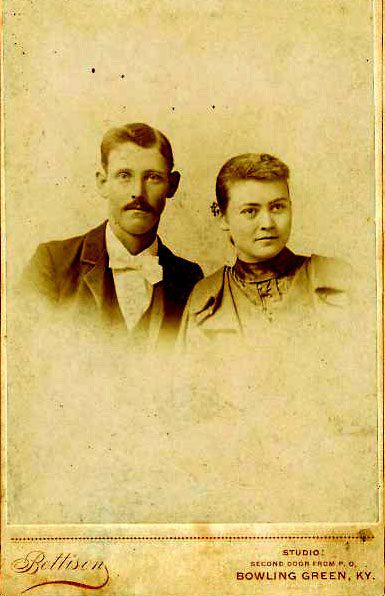 This picture is of John's son Harry Price
and his wife, probably circa 1895.
The 1880 census showed John V. Price as a married, 43-year old resident of Rochester, Butler County, Kentucky. He was a preacher. His wife, Sallie M. Price was 31 and was "keeping house." He had four children living with him: Lizzie A. Price, age 14 (who attended school within the past year); Robert G. Price, age 7 (who was shown as being in some fashion disabled); Nannie E. Price, age 5; and Zetta A. Price age 3. All were born in Kentucky. John V.'s father was born in Kentucky, but his mother in Virginia. Sallie's parents were born in Kentucky.[7]
A newspaper article in the possession of Doile Dennis Reeves in July 1975 contained the obituary of John's mother[8]. It stated:
Mrs. Alice S. Word, the oldest female resident of Dover died at her home early Sunday morning at the advanced age of 82 years. Mrs. Word had been very feeble for several years before her death and her departure from among us was expected, though much regretted.
She was born in Buckingham County, Virginia, in 1808, and moved to Dover in 1825, where she has resided ever since. Mrs. Word was married twice and leaves several children, among them being Mrs. James McDonald of this place, Mr. Richard Word of Covington, Kentucky, and Rev. John V. Price of Greencastle, Kentucky. Deceased joined the Methodist Church here in 1835 and continued an active and consistent member of her congregation during her lifetime. The funeral services were conducted Monday evening at her residence by Rev. E.C. Savage, pastor of the M.E. Church.
The remains were taken to Mt. Olivet, Kentucky, where they were interned Tuesday in the French Cemetery in the presence of a large gathering of sorrowing relatives and friends.
Though the article is not dated, the date for Mrs. Word's birth, added to her age at death, indicates she died in about 1890.
A John V. Price is shown in the 1900 census for Warren County, Kentucky. He is 37, so is definitely not this John V. Price, but may be a son.[9]
According to a newspaper clipping in the possession of Doile Dennis Reeves in July 1975, Sarah E. Conn died at the Christian Widows and Orphans Home in Louisville, Kentucky on a Saturday afternoon. She was buried at First Christian Church in Louisville. Rev. Dr. A.E. House, the pastor of the First Christian Church, conducted the service.[10]
According to one handwritten note in the papers of Doile Dennis Reeves and Norah Frances Reeves, Sarah Conn was shown as "Sarah M. Conn."[11]
In a conversation in July 1975, Doile Dennis Reeves said Sarah E. Conn had three brothers, George Conn, Nim Conn and Humel Conn. He believed her parents may have come from England.[12]
She either lived or visited in Memphis, Tennessee. She wrote a letter from there on May 4, 1925.[13]