John Anderson Conyers, Sr.
(1790 — After 1870)
Susan Spradlin
(About 1793 — After 1850)
Parents:

JThomas Conyers, Sr. and Jane Wills
Unknown

Daughter:

Mary Elizabeth Conyers
John and Susan first appeared in the public records when they married on October 30, 1819, in Wilson County, central Tennessee.[1] John A Conyers was probably born in Wilson County since his father was a landowner and business owner. Susan was born in Kentucky.
They had seven children, Lucy J. Conyers[2], Obediah Conyers[3], Mary Elizabeth Conyers[4], and John Anderson Conyers, Jr.[5], Octavia B. Conyers[6], Napolean B. Conyers[7], and Josephus C. Conyers[8].
John next appeared in the public records in 1848, when a Sumner County, Tennessee (Sumner County is adjacent to Wilson County) voters' list shows that he voted in the election of 1848, which pitted the Whig Zachary Taylor against the Democrat Lewis Cass. Taylor carried both Tennessee and the nation.[9]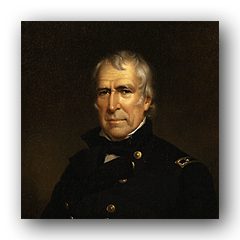 The 1850 census showed him as a 60-year-old Sumner County, Tennessee resident. He was born in Tennessee and owned land valued at $300. With him in his household were his wife, Susan, age 57 (born in Kentucky), and his children, Obediah, age 28; Napolean, age 22; Octavia, age 23; and Josephus, age 19. All the children were born in Kentucky.[10]
In the 1860 census, he appears to be a 69-year-old farmer residing in Sumner County, Tennessee. He owned no land but had personal property valued at $800. The nearest post office was at Gallatin, Tennessee. He was the head of a household that included his son Obediah, age 37, a farm hand, and his daughter, Mary Conyers Smith and her husband, John Smith (also a farm hand, though he owned real estate valued at $300 and personal property valued at $194) and their children James Smith, age 14; Susana Smith, age 12; Lauren Smith (male), age 9; Laripa Smith (male), age 8; George Smith, age 6; John Smith, age 4 and Mary Smith, age 2.[11]
The 1870 census shows him living in Allen County, Kentucky, with his daughter, Mary, and her family. This census showed him to be 84 years old.[12]
The sharp-eyed among you will notice that the 1870 census showed that poor John aged fifteen years since the preceding census ten years before. Since that is not likely, either this age or the ages he gave during the preceding two censuses are in error. Until shown otherwise, let's assume he was only 80 during the most recent census.